Healing Tree
Posted on May 3, 2013
in
by admin
---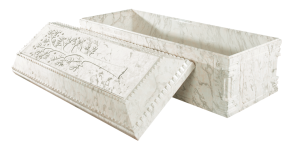 Contact your local Funeral Home for Pricing
Outer Layer of Polymer + Concrete + Polymer Liner = 3 Layers of Protection
Product Description
The Healing Tree is part of a new Trigard Celebration of Life package that allows families to participate in an interactive ceremony at the gravesite.
The Healing Tree is designed for the white marble Aegean vault cover. The tree design has twenty dove-shaped memory rings scattered throughout the top of the vault.
The family can say their goodbyes as they take a memory ring from the Healing Tree as a keepsake. The Healing Tree ceremony provides closure and new memories that are forever etched into a family's hearts.
A CELEBRATION OF LIFE CEREMONY AND BURIAL VAULT
Above you rests a Healing Tree,
with branches to the sky,
Its roots planted deeply
connecting you and I.
Its shape, its trunk, its stature,
represent your life.
The trials and tribulations,
the joys, the tears, the strife.
From the Healing Tree I shall take
a ring shaped like a dove.
A ring to hold precious memories
of your unforgotten love.